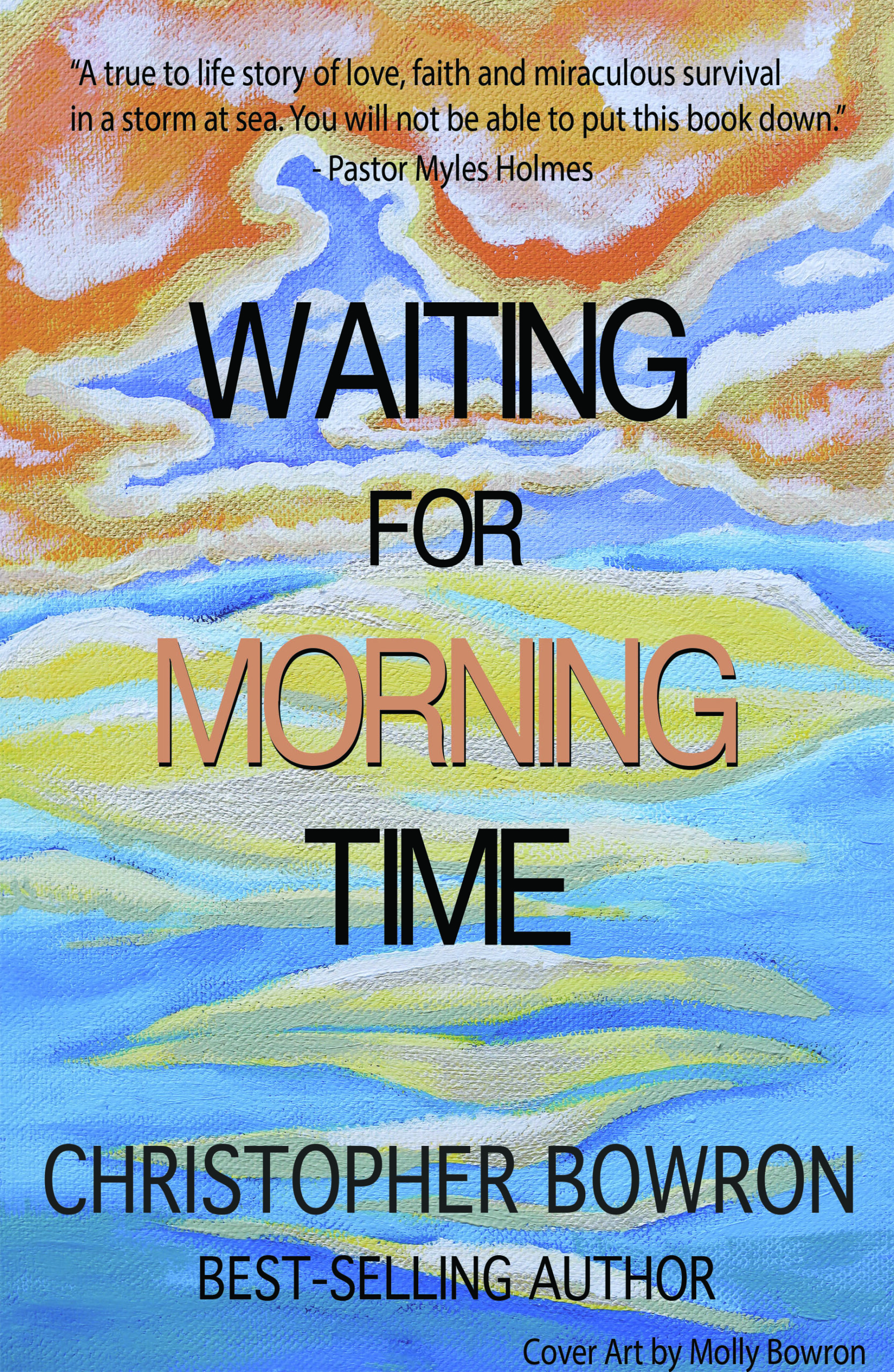 Waiting For Morning Time, is a true life survival story.
The Coast Guard wants to call off the search as it will be over 45 hours since the men have been missing at sunup. It is longer than anticipated they could possibly survive in the 68 degree Gulf water. The families grow stronger and refuse to give up! A last ditch search is put together.
The tale portrays the trials of three men lost at sea and how they survive nature and combat their inner demons. It depicts how three families grew strong in their conviction the men were still alive through prayer and their religious faith in God. In the end, the Authorities and the Press called it a Miracle. Neal, Lew and Bill are the Longest Known Survivors in those temperatures. Most are never found dead or alive.
The Reviews are in…
Pastor Miles Holmes
"A true to life story of love, faith and miraculous survival in a storm at sea. You will not be able to put this book down."
A scuba diving trip, a solo dive, an ominous storm on the horizon, a rift within a family–four elements keep a reader turning pages until the end and wanting more.
–Betsy Ashton, national award-winning suspense writer
Chris Bowron's harrowing account of three men stranded in the dangerous waters of the Gulf of Mexico for 47 hours reads like one of his best-selling thrillers. All the more chilling when one realizes "Waiting for Morning Time" is a true story. Bowron has captured each moment of this amazing survival story in chilling detail. You have to read it to believe it.
Mike Balsom- The Niagara on the Lake Local
CHIC LIT CAFE
Waiting for Morning Time by bestselling author, Christopher Bowron is a shocking, yet inspiring story of faith and the ultimate test of survival. After a violent storm, three men are stranded at sea in the Gulf of Mexico, desperately floating in shark-infested waters for a total of 49 hours before they are finally found. It sounds like a dreadful, horrendous fiction movie, but it really did happen, and their story will have readers held in suspense while reading, turning the pages faster than one can blink.
Waiting for Morning Time by Christopher Bowron is the harrowing true story of the longest-known survivors stranded in the open sea. A father, a son, and their friend go out for a relaxing time of fishing and diving, but when a storm quickly hits and upturns their boat, they are left floating at the mercy of the terrifying ocean. They are forced to take drastic measures, and one man even uses his dentures as a vessel to drink rainwater. Meanwhile, their wives scramble to get help from the Coast Guard, friends, and new stations.
It has been more than 20 years since these heart-wrenching events took place, but reading about the trials that these men went through is incredible. They were suffering intensely, but so were their families on shore. It is incredible to learn just how difficult it was for their wives to get cooperation from the Coast Guard, which is much harder than you'd imagine. The unwavering faith and determination of the families back on shore was so inspiring and incredible to read about. Author Christopher Bowron has done an excellent job of writing from different perspectives, and his writing style with descriptions of all the scenes, characters, and all they had to endure makes the reader feel like they are right there with the men and their families at the time of the unforgettable life changing event.
Waiting for Morning Time is a truly impressive, thrilling, and meaningful story of real-life survival, faith, hope, and perseverance. Readers will absolutely enjoy and be thoroughly satisfied with that aspect of the story. But, along with the passion and suspense written perfectly into the story, Christopher Bowron brilliantly keeps readers on the edge of their seat from start to finish.