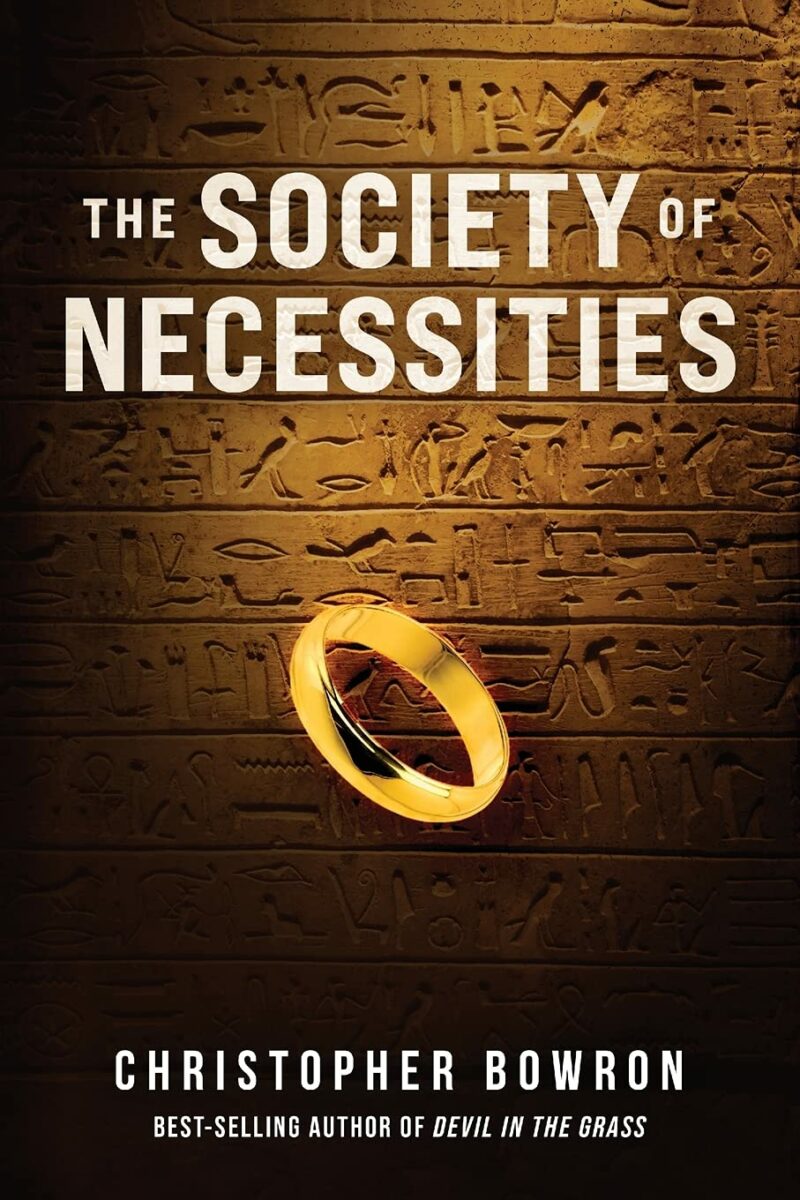 In his lustful haste, he stepped off the curb behind a parked minivan. Turning, Daniel caught movement out of his left eye as the brown truck struck him. The impact was like a bug being hit by a fly swatter. He could feel his chest breaking-being thrown backwards onto the street, the back of his head hitting the pavement with a deadly force. All he could hear were tires screeching and his girlfriend Devi's scream: "NO!" 
Daniel St Croix is the beneficiary of his estranged grandfather's estate-including a gold wedding band holding a powerful secret. The gold forming the band was originally given to a long-dead Egyptian Pharaoh from the gods who once walked the earth. Daniel must read Pierre St Croix's well-kept journals to unravel the puzzle and imminent danger attached to his inheritance.
The Reviews are in…
Goodreads
"A mesmerizing, entertaining, and inviting action and adventure/thriller like no other, author Christopher Bowron's The Society of Necessities is a must-read book for 2021 and one of the year's contenders for best action and adventure novel. A great story with an inviting pace and twists and turns that will keep readers on the edge of their seats, this is not a book you want to miss. Be sure to preorder your copy today and pick up copies wherever books are sold on July 10th, 2021!"
Goodreads review
THE COLUMBIA REVIEW Susan Keefe
"As the author weaves his clever story, the sights and sounds of other worlds and times are laid before his readers. The theme of immortality enables Christopher Bowron to expand our horizons, and open our eyes to the mysteries of centuries, the stuff of legends... I absolutely loved this book! Enthralling, jam-packed with danger and intrigue, I would highly recommend it to lovers of fast-paced adventure with that little bit more, such as you would find in the writings of Steve Berry and Raymond Khoury."
Susan Keefe
The Columbia Review
PENNY HAW, veteran South African journalist, columnist and author of The Wilderness Between Us
"In The Society of Necessities, Bowron cleverly intertwines thriller and historical fiction with an intriguing thread of paranormal "what ifs" laced throughout to tell a fascinatingly original, page-turning story. Interspersed with a series of action-packed scenes, populated by persuasive characters and expounding interesting history, the tale is delivered with punchy prose, lively humour and a compelling plot. It tells of young Canadian, Daniel St Croix whose life is turned upside down when he discovers the inheritance he receives from his estranged grandfather comes with a great deal more than what the gold wedding band he is handed seems to promise."
Penny Haw
veteran South African journalist, columnist and author of The Wilderness Between Us
Bookmarkks Book Blog By Kalyan Panja
"The Society of Necessities by Christopher Bowron is not an easy novel, but it's certainly out of the ordinary. It is not easy to tell you about this book because I think that every word would be trivial compared to its beauty and complexity. Set in breathtakingly beautiful places and narrated with a style capable of captivating the reader, the book is an intense and impossible to forget tale."
Bookmarkks Book Blog by Kalyan Panja
D. Donovan
"The Society of Necessities adopts an exceptionally fast pace, but takes the time to build relationships, puzzles, and history surrounding a Canadian man's initial underlying desire to exit the rat race of convention and live 'a life without pretense.'"
D. Donovan
Senior Reviewer, Midwest Book Review